Let's talk about the 'Manchester of India' Ahmedabad. This city is based in the Gujrat state of India. Ahmedabad being the capital is not keenly considered to be a travel destination but rather considered to be one of the most economical and a polestar for industries. Now Ahmedabad market is the market that is more talked about amongst tourists as well as other citizens. Why one should shop from Ahmedabad?
The street markets of India have their own place and courtesy. People have a type of tenderness in buying things that are low-priced. And bargaining is its culture. So Ahmedabad shops are also part of a shopping paradise, and there truly are some places worth your money.
SOME BEST PLACES TO SHOP FROM IN AHMEDABAD
1.    RAVIVARI MARKET
Ravivari market is a Sunday market that is organized every Sunday on the banks of Sabarmati. This riverfront market always has a crowd for food stalls especially, plastic items, tools, and jewelry in Ahmedabad. Street food like Pani puri, and corns are famous at this place. You can find other Ahmedabad Day markets on different days of the week. It opens at 8 am and closes by 4 pm every Sunday. 
2.    LAW GARDEN
Law Garden is undoubtedly one of the best places to shop in Ahmedabad. It is a colorful market. Its address is Law Garden, Maharashtra Society, the Ellis bridge, Ahmedabad, Gujrat. So, you don't confuse as this is a night market mostly and located in a posh area in Ahmedabad. If you are looking for buying the best traditional fashion clothes with original embroideries and that too at a reasonable price then that's it. Law Garden is the best cloth market near you with the best clothes shops in Ahmedabad.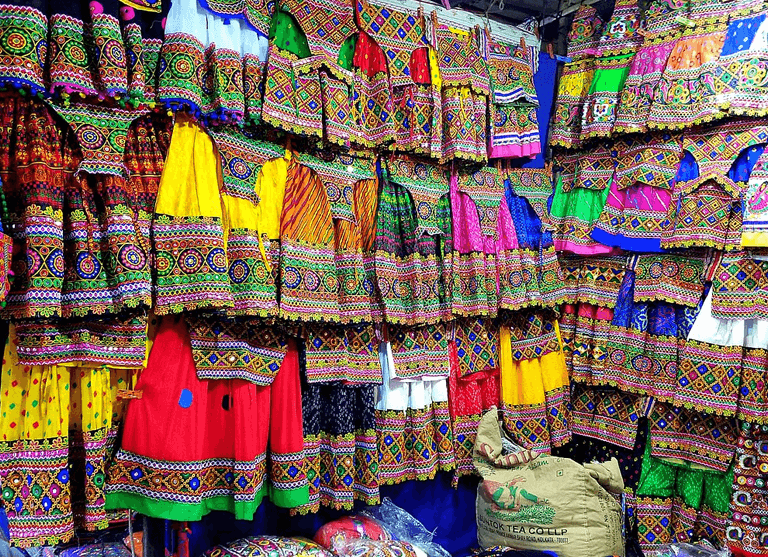 3.    MUNICIPAL MARKET
Another Ahmedabad market that used to exist even before the malls. This is another Ahmedabad wholesale market where you can find food as well as garments near you great spot for shopping and eating. Here you can find items of local crafts and clothes traditional and modern both and street food of different categories as well. 
4.    LAL DARWAJA
Lal Darwaja is one of the oldest markets situated in the heart of the old city of Ahmedabad. This place has the most crowd and is popular for being the cheapest market of all time. You can find the best Ladies' items in the Lal Darwaja market. Women sarees, chaniyan choli, festive fits, and street food at fair bargain prices. One of the places to shop for garments and find saree shops near you. It opens at 11 am and closes by 10 pm every day.
5.    DHALGARWAD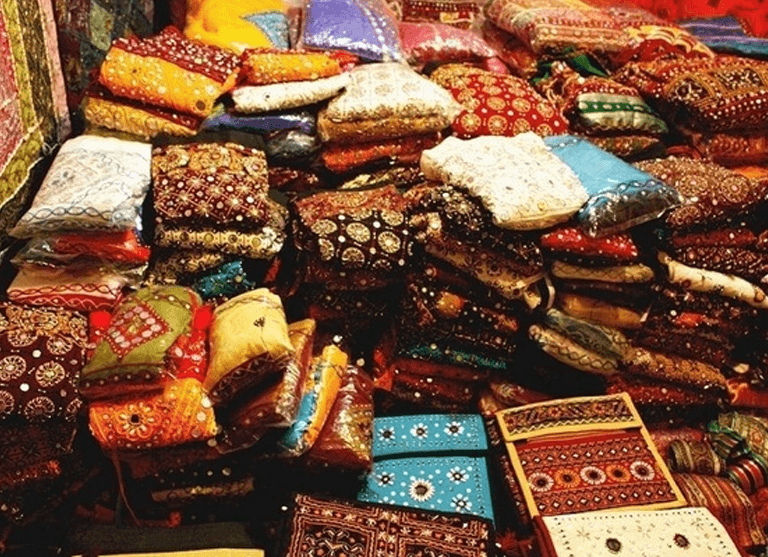 This is one of the best places to shop in Ahmedabad. It is mainly known for its fabric shopping, so if you are a fabric lover you can shop for women's suits, sarees, and other clothing from this market. Apart from dresses, you can also buy a perfect variety of handicrafts and textiles, hand-printed handkerchiefs and bed sheets and so many other pocket-friendly items. It opens at 10 am and closes at 9:30 pm daily.
6.    RANI NO HAJIRO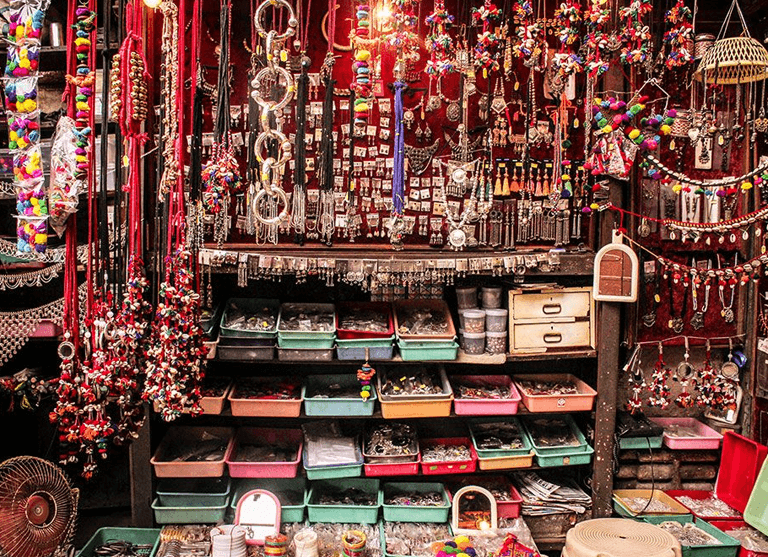 If you are looking for a nearby cloth shop or shopping market famous near me in Ahmedabad. Then this is the perfect match for you, Rani no hajiro is a very historical market. People mostly buy sophisticated jewelry and ravishing fabrics and take beautiful dresses home. This market is a tomb of Ahmed Shah's Queens which is now a hub of street shopping. Opening time is 11 am and closes at 10:30 pm.
7.    MANEK CHOWK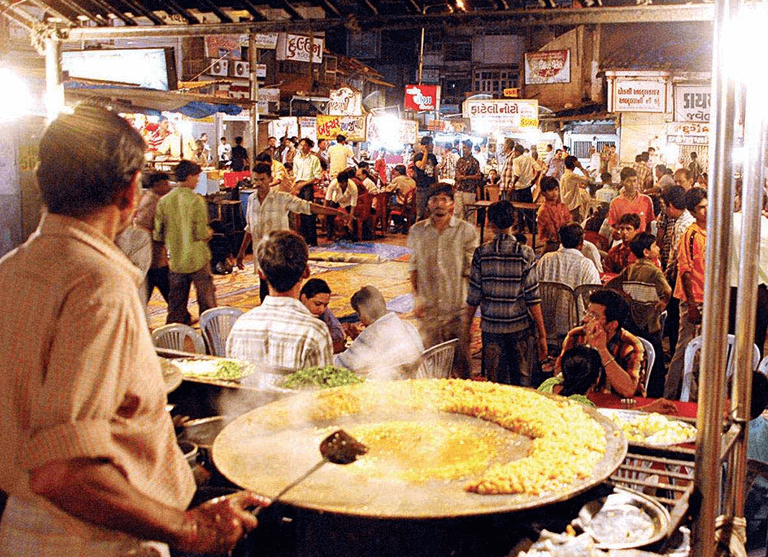 Manek chowk is a tourist attraction in Ahmedabad and it is famous for its ornaments and items made of the same. This Ahmedabad market is known for its easily affordable designs, jewelry, bags, and sarees. One should pay a visit there for local street food too. It opens at 11 am and closes by 10:30 pm.
8.    RATANPOLE
Asopalav Ratanpole market is very popular for selling the best textiles in Ahmedabad. It is a wholesale market. Its crowd-pleasing mixed fashion is its attraction. This wholesale cloth market sells the best Indo-Western fashion in Ahmedabad. You can find the best saree shops in Ahmedabad here. They have the best collection of women's sarees. For best-imitated jewelry or artificial jewelry, you can visit the famous Tankshal market near Ratanpole. It opens at 11 am and closes by 10:30 pm.
9.    SINDHI MARKET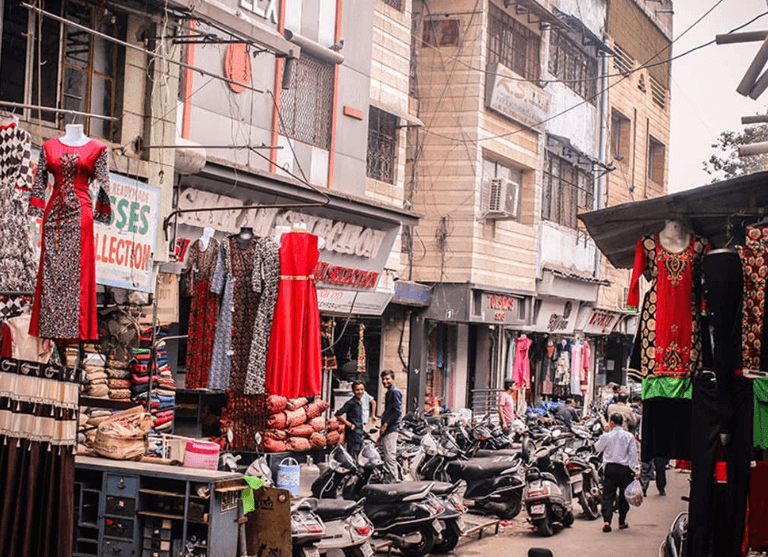 Sindhi market in Ahmedabad is another place for your cheap bucket list for shopping. You must visit here as this market provides a special series of traditional handbags and footwear. Some of them are handmade too. Along with that, you can carry bedsheets, handkerchiefs, artificial jewelry, etc. Carpets are its specialty so you buy that from Sindhi Market and take them home. It opens by 11 am and closes by 10 pm.
10. C.G ROAD
If you are a fan of modern shopping then you can head to C.G road in Ahmedabad. C.G road has all the biggest shopping malls in Ahmedabad and you can go for modern shopping there. Traditional clothes and items will be effortful to find as they don't provide the traditional fashion. Shopping malls in Ahmedabad are opened by 11 am and closed by 10 pm.
11. FERNANDES BRIDGE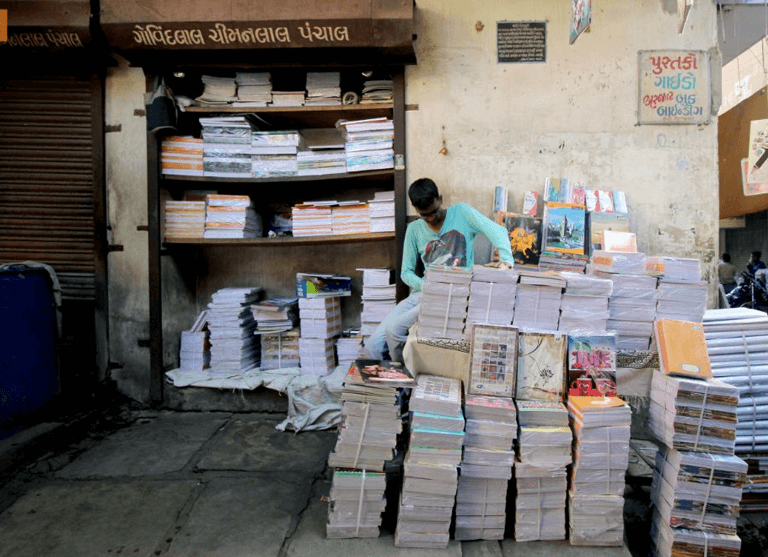 Attention to all the novel freaks and book-reading nerds. Fernandes Bridge is known to be the best market for sales of Books by Indian, regional, and foreign authors. You can find the books of the oldest authors in this Ahmedabad market. It is also cheap so probably if you are prepping for a competitive exam or you need booklets and study material related to that you can refer to this market this is one of the best shops in Ahmedabad. Timings to visit are 11:30 to 10.
12. NEXUS AHMEDABAD ONE
If you are up for some luxurious shopping and looking for malls in Ahmedabad. Nexus is one of the best malls in Ahmedabad. Its main attraction is athletic wear, shoes, and comfortable sportswear collection. So do visit this grand shopping mall in Ahmedabad for all your leisure luxury, located in the posh area of Ahmedabad. Timings are 11 am to 11 pm.
13. THE ACROPOLIS
Acropolis is again one of the biggest and best malls in Ahmedabad. Its solicitation is its gift shops if you are looking for some luxurious high price gift shops in Ahmedabad, please go and visit the amazing gift shops of this shopping mall. It also comes under the posh area of Ahmedabad. It opens by 11 am and closes by 11 pm.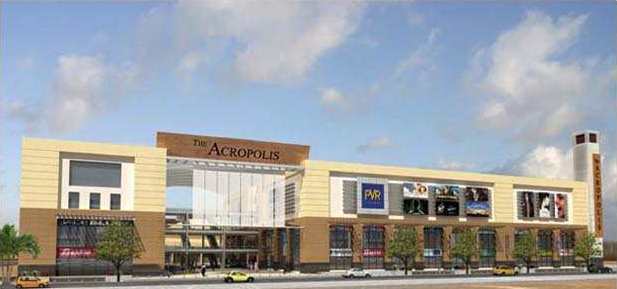 Hope this article helped to sort your shopping list. Please go and explore these beautiful shopping places while on your trip to Ahmedabad. The Ahmedabad market has some of the elite and best places to shop in Ahmedabad. Take home the culture of Gujrat. 
Here are some videos to help you through-
https://youtu.be/S34q-mq3CAE
https://youtu.be/AY5zoo53djg
https://youtu.be/qMwKHjDnMBw